Myrtle Beach South Carolina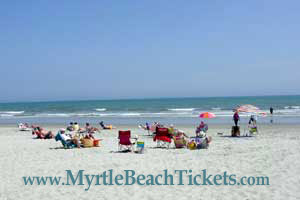 If you've been here before, you know that Myrtle Beach is an exciting oceanfront resort area along the eastern USA coastline in the state of South Carolina.
The Myrtle Beach area generally refers to the Grand Strand, which is actually a 60-mile stretch of coast that includes Myrtle Beach as well as towns to the north and to the south.
Myrtle Beach's biggest draw is the dark blue-green waters of the Atlantic and the wide, sandy, unspoiled beaches. But while the beach is the centerpiece of fun along the Grand Strand, there are many other aspects of this area that make it a favorite vacation destination for millions of families, students, golfers, and Canadians every year.
There are world-class shows at places like the Alabama Theatre, internationally known bands playing at venues like the House of Blues in North Myrtle Beach, theme shopping and entertainment complexes such as Broadway at the Beach and Barefoot Landing, hundreds of restaurants with every imaginable cuisine offered, and nearly 100 golf courses, many of them signature courses of famous golfers, and many of them uniquely challenging in that they hug both the Atlantic Ocean and the Intracoastal Waterway.
Some of the same qualities of Myrtle Beach that attracts millions of visitors year after year have also inspired authors of both fiction and non-fiction to pen stories about the area.