Myrtle Beach Books

Cheapskate's Guide to Myrtle Beach
This book by Mitch Kaplan contains some of the best deals on Golf Courses, Lodging, Restaurants, Shops, and More.
You'll save more than the cost of the book by what you discover inside. The price is around $10 and we highly recommended it!
---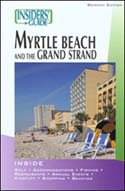 Insiders' Guide to Myrtle Beach and the Grand Strand
This Insiders' Guide to Myrtle Beach and the Grand Strand offers travelers, newcomers, and locals the best, most comprehensive information on everything to be found in this bustling, booming coastal resort area. With 60 miles of beaches, more than one hundred golf courses, and access to the sparkling Atlantic Ocean, the Strand has been called "the seaside golf capital of the world." When you've had your fill of the links or the beach and are ready for a cool drink, a fine meal, great live music, a stroll through historic houses, or family-friendly entertainment, use this guidebook to discover the limitless opportunities for fun and adventure Myrtle Beach-style.
A comprehensive guide to this legendary resort community, from golf courses and beaches to shopping and nightlife. Whether planning a vacation or a permanent move, this guide has it all.
---

IgoUgo Travel Report: Myrtle Beach:
The Inside Scoop from Experienced Travelers
Myrtle Beach is the heart of the Grand Strand, a region of wide, sun-drenched beaches covering 60 miles along South Carolina's coast. Affordable, upretentious, and family-oriented, Myrtle Beach offers down-home attractions like stock-car racing and country-western show halls reminiscent of Branson, Missouri. While casino boats and exotic dance clubs still have their place on the nightlife scene, more prominent are venues like Broadway on the Beach, an enormous complex featuring lakeside promenades, upscale shopping and dining, an aquarium, and an IMAX theater. Over a hundred golf courses make this area a serious year-round golfing mecca, and amusement parks and historic sites provide entertainment options that go far beyond the sea.
IgoUgo Travel Report: Myrtle Beach is not your average travel guide. Every piece of advice found in these pages comes from regular travelers and locals-not paid professionals or PR people-which means pure, unfiltered opinions on what to see (and what to avoid) during your trip. You'll find first-hand details on attractions and day trips, along with restaurant, nightlife, and activity recommendations in all price ranges and for all interests. You'll also see our contributors' original photographs and insider tips on every page-no other travel guide can say that.
---

The Ultimate Shrimp Book
Dive into this collection of more than 650 shrimp recipes. Whether you love shrimp fried, steamed, baked, broiled, or grilled, in mole sauce, cream sauce, cocktail sauce, peanut sauce, or garlic sauce, crispy, crunchy, tender, hot, or cold, you're about to fall in love with shrimp all over again.
Rediscover the classics or go cutting edge with sweet and spicy black pepper caramel shrimp. Try shrimp twists on familiar international favorites like paprikash and vindaloo. And don't forget the crowd pleasers like shrimp nachos and popcorn shrimp.
For a formal dinner, a quick family meal, or a tasty snack, The Ultimate Shrimp Book has the perfect shrimp recipe for every occasion.
---

Best of the Best of South Carolina
From Charleston to Columbia, Aiken to Anderson, Mauldin to Myrtle Beach, forty-eight of the leading cookbooks from the Palmetto State have contributed their favorite recipes to create this remarkable collection.
It is said that South Carolina has an unmatchable charm that stretches from Historic Charleston and the coastal beaches all the way to the beautiful Upcountry mountain region.
And South Carolina cuisine is equally charming. South Carolina is famous for such dishes as She-Crab Soup, Oyster Purlo, Huguenot Torte, Cheese Bennes and Carolina Red Rice and these are just a sampling of the 400 or so recipes included in these pages.
---

How I Play Golf
There's no denying that Tiger Woods has taken golf by storm. It seems like every time this twenty-something-year-old swings a club, another PGA record is shattered.
Yes, his explosive drives, accurate approach shots, and steady putter certainly contribute to this success. But fans and critics both agree that it is Tiger's devastating mental game that has propelled him to become the premier golfer of our time.
Now Tiger shares his thoughts on what he calls the game of a lifetime. He reveals the five secrets he believes are responsible for his success: A combination of physical, metaphysical, and psychological practices he uses daily to keep his game in top shape and help him transcend all the ups and downs of golf.
Best of all, Tiger reveals his unique approach to the game for the first time ever in this one singular volume.
---

The Golf Biomechanics Manual
Clubs don't play the game, the golfer does! The only way to achieve lower handicaps is to improve the function of the golfer, the person who actually swings the club. Proper self-conditioning is vital to reach peak performance. Whether you are a golfer, a golf pro or a fitness professional, this book is key to improving the game of golf.
You will understand how tight muscles affect the swing and what to do about them, why warming up before playing can dramatically enhance play, the correct way to train for improved flexibility, strength and power, the difference between functional strengthening exercises for golf and bodybuilding-type exercises that are not beneficial for the game, and why breaking the Flexibility-Stability-Strength-Power formula can break your body!
Author Paul Chek is a world renowed expert in the fields of corrective exercise and high performance conditioning. His techniques have helped professional and amateur athletes from a variety of sports, including golf, football, basketball, ice hockey, rugby, running, tennis and boxing to reach their potential.